From meeting the main man himself – Santa – through to booking a real-life igloo to dine in, we've rounded up the most magical festive experiences to do this year
Updated on • Written By Rosie Conroy
Let's face it, London at any time of the year is a pretty magical place but come Christmas it's completely transformed into a winter wonderland. To make the most of the capital lit up in sparkles from top to toe, every year we try to hunt out the most Christmassy things to do in London.
While there's certainly no shortage of Christmas things to do in London, there is (in our opinion) a hierarchy of events that happen across the city that you should work your way through in the lead up to the big day. It's what Santa would want you to do. The tricky thing is though, if you either don't live here or have not the time nor the inclination to spend weeks researching every inch of the interest, it can feel a little overwhelming to know where to start.
YOU MIGHT ALSO LIKE
There are of course the obvious things – looking at you guys, ice skating and Oxford Street's Christmas lights – but there is also a whole host of wonderful lesser-known things to get stuck into over the festive period. If you can bear the phrase, we're out-and-out foodies, and so we think many of the most wonderful things to do include food and drink. Because frankly, if Christmas isn't a time to eat, drink and be merry, then when is?
If you're looking for Christmas events to take kids to in London, fear not. There are plenty of family friendly spots to bring the whole team along to. From catching a fun and fast-paced panto through to trying some of the best hot chocolates in London, there's plenty to keep the magic alive. On the other hand, if you're looking to enjoy some time with friends and family, what could be better than bagging a table at one of the many winter terraces London's best restaurants put on at this time of year? You can expect seasonal food and drinks, cosy blankets, heaters galore and the odd sprinkling of cheery decorations to bring it all together.
So, without further ado, these are our favourite things to do at Christmas in London. Enjoy! Let's start with the basics. If you're visiting London in winter then you're pretty much guaranteed to get a glimpse of a tree or fifty. The things is though, not all trees are born equal. The obvious place to start is in Trafalgar Square where you can take in the lofty heights of its annual beauty. It's been a gift from Norway since 1947 and lights up central London every winter with its strings of vertical lights which are added in the traditional Nordic style. Another stunner is the impressively tall specimen found in Leadenhall Market – in all its traditional red and gold glory – as well as the classic Covent Garden tree which is placed outside the Plaza. For something more modern you'll want to head for the hotels where each year they quietly battle it out for the most impressive display. They usually work with artists or brands to come up with quirky takes on the Christmas tree, with our favourites being found in the luxurious foyers of iconic places like The Ritz, The Connaught and The Dorchester.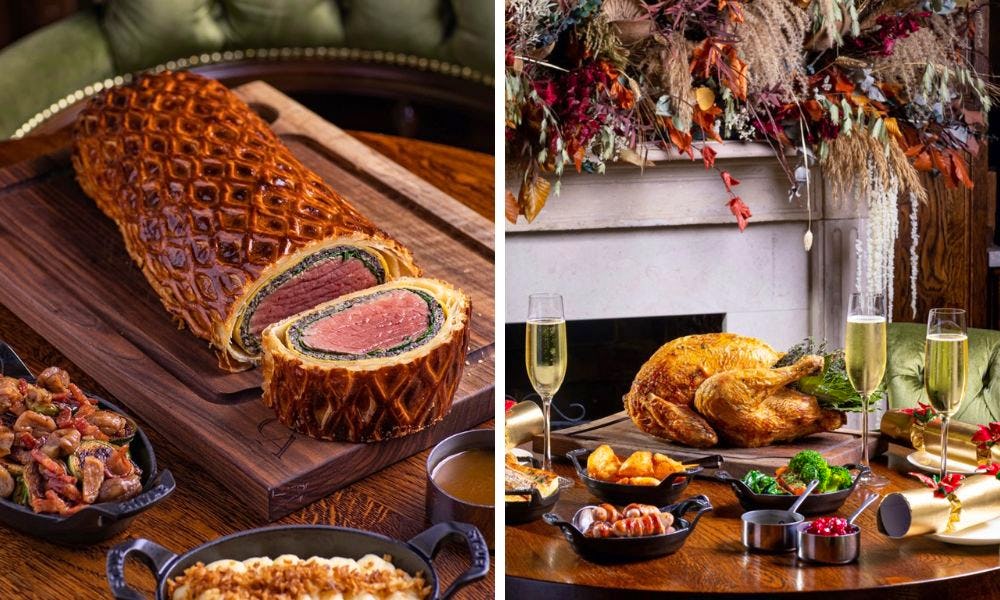 We could hardly write about Christmas without mentioning a good old festive feast. Yes, if ever there was a time to explore London's dynamic restaurant scene, this is it. The trick here is to pre-book, as many of the best spots get booked up for their Christmas dinners weeks – if not months – in advance. While there are the wonderfully traditional likes of roast dinners at The Cadogan Arms in Chelsea or Holborn Dining Room, there are also some altogether more unusual menus that we think are worth your time. Take the menu at Manteca, for instance. Here you'll find Italian-style plates piled high with pork sausage and truffle to start and leg of lamb with grilled greens and Pink Furs for mains.
Read more and book: The best Christmas dinners in London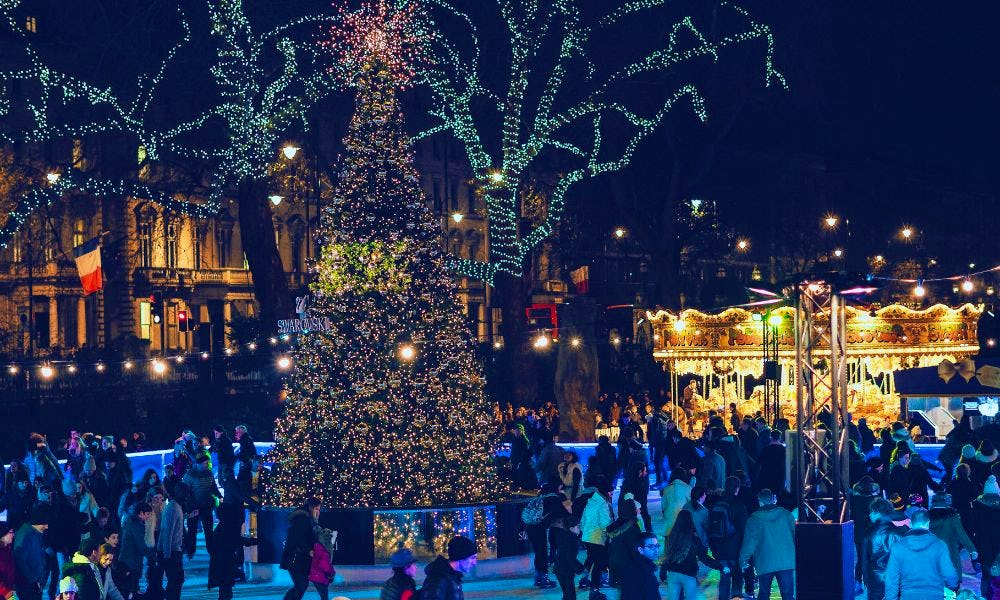 We've found balance and grace to be optional extras when heading for the ice rink, so whatever your skill level (or lack of) don't be put off. Many of the largest ice rinks come complete with cosy bars which are perfect for a bit of Dutch courage before strapping on your boots, and should it all go to pot, at least you'll get a good story out of it. There's something so nostalgic about feeling the cold air rush as you step onto the rink, while the giddy excitement drawn across the faces of fellow merrymakers couldn't fail to warm the heart. The obvious choice is the iconic offering in the courtyard of Somerset House, but there are also fantastic options all over London – from Alexandra Palace and Hampton Court to Winter Wonderland. For 2022, we think one of the most exciting additions to the line-up is Glide at Battersea Power Station. While you're there, check out the best restaurants at Battersea Power Station for pre- or post-exercise fuel.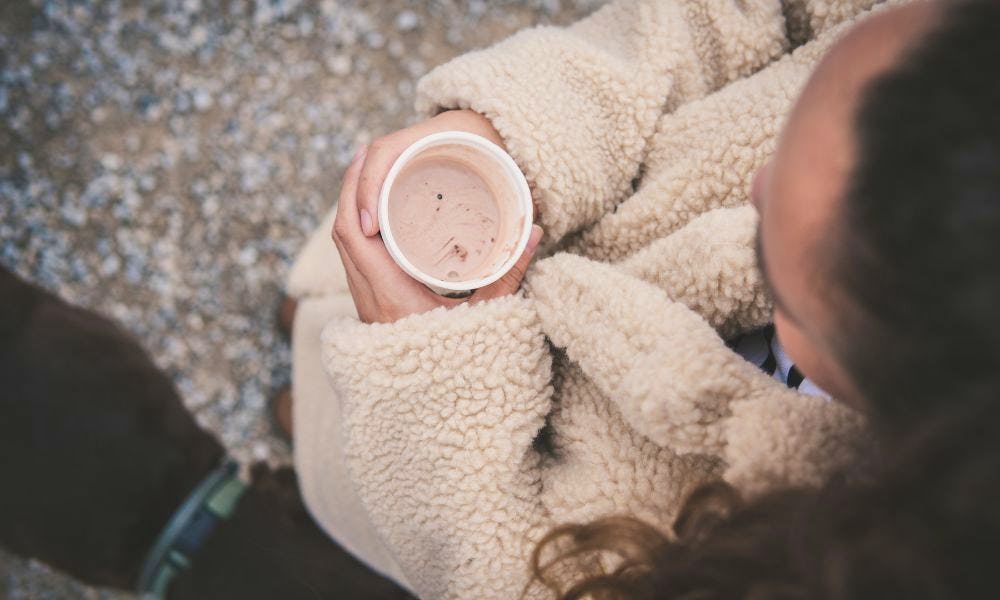 Reignite your inner child's passion for overindulging in sugar and grab yourself a hot chocolate next time you're wandering around London in the run up to Christmas. This would make a nice pitstop when doing one of the other winter activities on the list, but we also think it comes with enough of its own merits to make it a dedicated event. While there is no shortage of places to grab a hot cup of cocoa, the indulgence levels vary wildly. We're only interested if there's the option to add marshmallows or cream, frankly, with favourites including the loaded, chocolate shaving topped cup of joy from Dark Sugars or the rich and indulgent serve from Knoops that can come complete with your choice of pretty much any milk and a giant marshmallow. Heaven.
Read more: The best hot chocolates in London Whatever you call it – gluhwein, vin chaud, mulled wine – one thing that is clear of any confusion is that this winter warmer is a crowd-pleaser. Sweet and scented with traditional aromatics like cinnamon and oranges, there's no getting around the way a cup of this will instantly inject you with the buzz of Christmas. While markets might seem like a good way to get your fix, we'd argue that a much more civilised approach would be to head to one of London's best bakeries and treat yourself to a mince pie to go alongside your drink. We can't get enough of the buttery croissant-style cases from Popham's, while Ottolenghi's generously filled pies are a traditionalist's dream.
Read more: London's best bakeries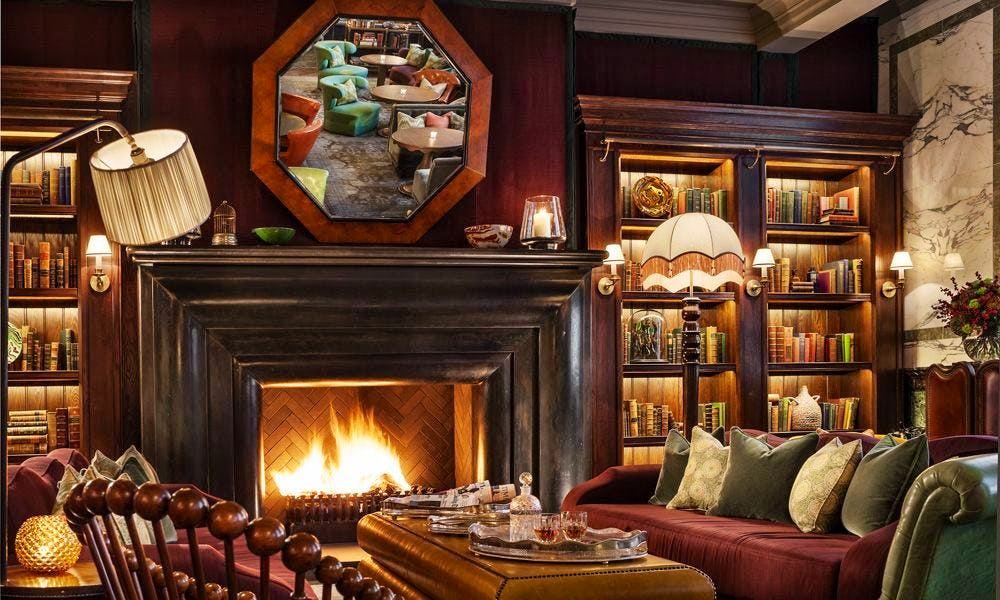 One of life's simple pleasures, settling down beside a real fire warms both body and being, allowing you to forget the rush of Christmas shoppers outside and stop for a moment of pure calm. It might surprise you to learn that a whole host of pubs and restaurants across the capital benefit from their very own hearths. To benefit from the flames in one of some such grates, simply book ahead and request to be seated near the fire. Yes, there are traditional pubs with wonderfully warming British fare on offer, but there are also properly luxurious perches. A favourite of ours is Scarfes bar at the Rosewood London hotel. Here you'll find a large open fireplace with comfortable sofas stretched out in front of it and a magical cocktail list. The only problem we foresee in settling in here is that you may never want to leave, and the Christmas presents won't buy themselves.
Read more: The best restaurants and pubs with open fires in London We're not just talking about putting your credit card through its paces here (although if that's what you want to do, don't let us stop you), but instead taking in the mind-bendingly-brilliant window displays some of the high street's biggest names put on through the winter. Skip past Selfridges for a signature tongue-in-cheek exhibition or stop by Fortnum's for a show of true class found within each of its little box-like windows. Other favourites of ours include the likes or Harrods and Harvey Nics, although you'll have to head out west to seek those two out. Streets such as Sloane Street and New Bond Street are also a great way to wander and wonder at many of the smaller (read: more exclusive) shops the streets of London are home to.
Read more: Still need to sort the actual shopping? Here are the best gifts for foodies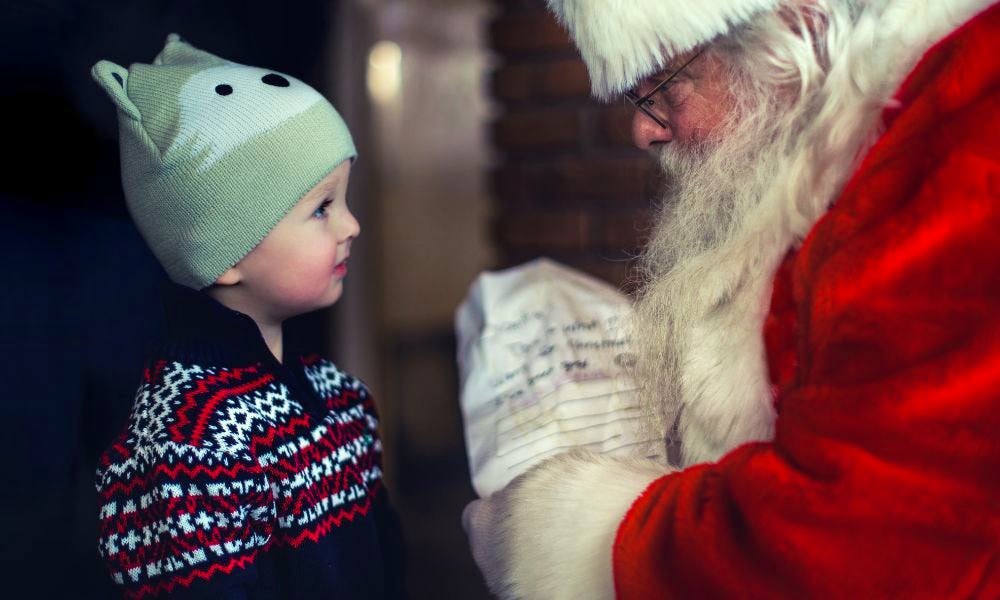 Christmas wouldn't be Christmas without catching a glimpse of the big man himself. Luckily us Londoners are bestowed with the honour of several Santa visits, perfect for taking the whole team to. Typically you'll get a gift and a photo opportunity at whichever spot you choose to visit, but offerings do vary so – for once – it's worth reading the small print. Some of our favourite grottos include the iconic character at Hamleys who is supported by his in-house elves and Noir Kringle – an experience in Shoreditch set up by a mum in search of positive black representation for her kids at Christmas.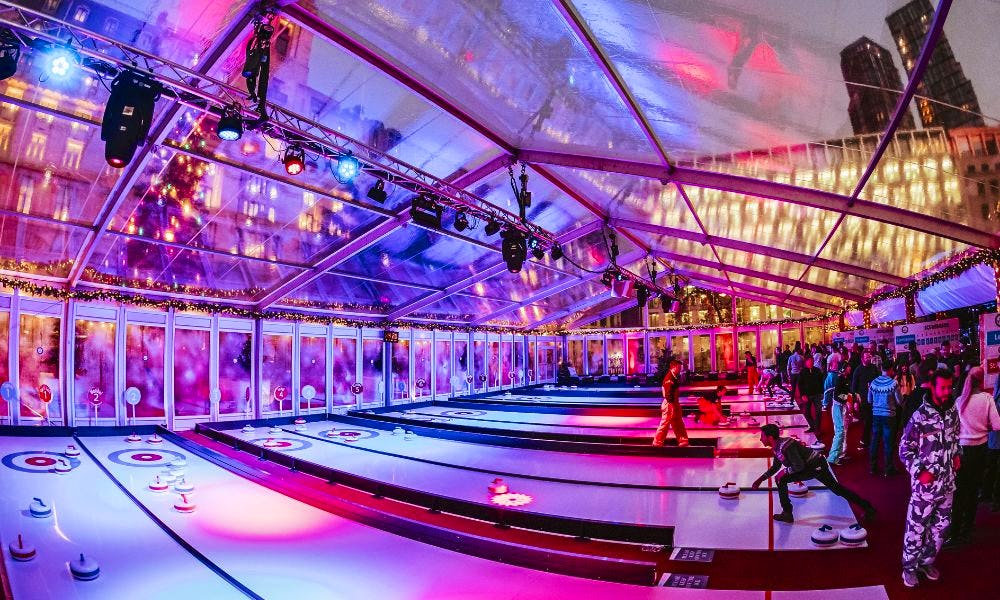 Dust off your competitive spirit and head for the ice rink. No, you won't need your skates for this one. We're talking about curling. Surely one of the most intriguing spots, this is surprisingly difficult to master. Head over to The Curling Club for the full winter wonderland experience worthy of gathering your nearest and dearest. Here you'll find multiple lanes and a menu of crowd-pleasing classics, plus a fully stocked bar. Can't make it to South Bank? Why not book into the pop-up curling lanes at King's Cross' Coal Drops Yard instead? There's a fully covered bar here too, for post-competition commiserations or celebrations.
Book now: The Curling Club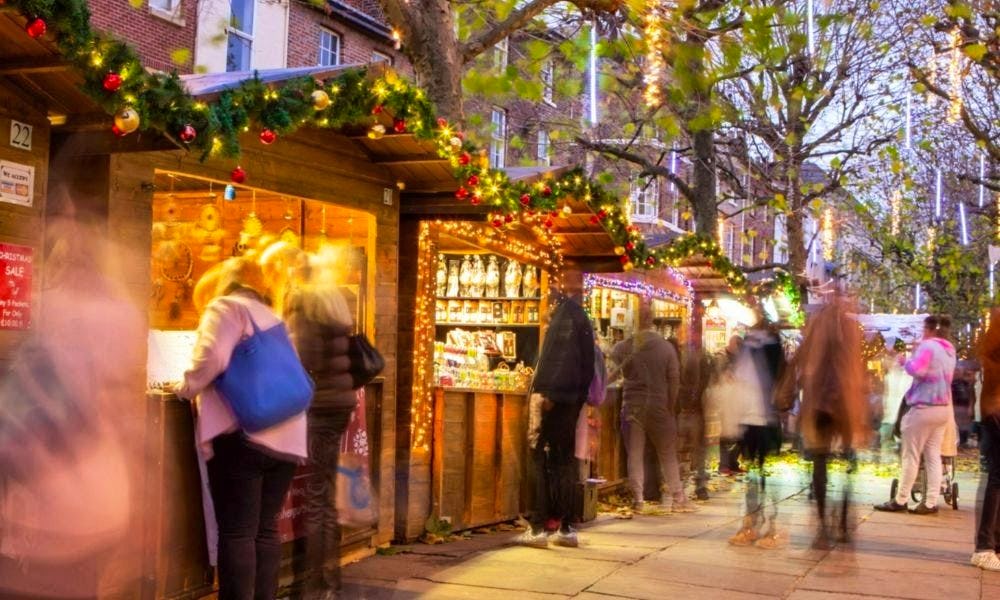 Is there anything more festive than wandering around a market making yourself feel slightly sick on a concoction of mulled wine, mince pies, pretzels, and hot dogs? We think not. Come November and December, London plays host to some of the most magical markets anywhere in the country and we're suckers for trying to make time to visit them all. If we had to pick a favourite though we'd probably head straight for South Bank. Here you'll find row upon row of mini chalets selling everything from toasted marshmallows and mulled wine through to burgers and bangers. Each year this market is complemented by a line-up of shoes, pop-ups and exhibitions close by, so make sure to check the full rota if you're looking to make a day of it.
Read more: The best Christmas markets in the UK and London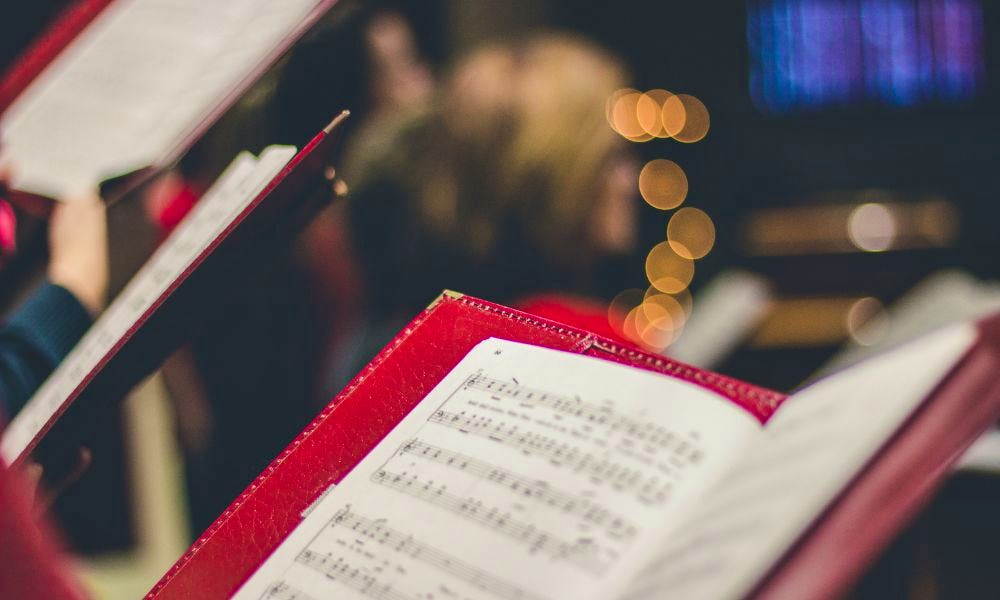 Put a spring in your step with the power of song at one of London's best carol services. These are typically held in some of the city's most iconic churches and are nearly guaranteed to transform you into a merry mascot, no matter how Grinch-like you've been feeling previously. If you want to go all-out, there are services at places like St Paul's Cathedral where you can wonder at some of the city's most beautiful architecture while soaking up the soft lighting and the hum of song coming from the world-renowned choir. Lots of the billings are free and unticketed, but there are also charity partnerships which you can buy seats for in support of causes like WaterAid. If you don't fancy battling the crowds trying to listen to the choir at St Paul's, you could try your local church – chances are they'll have something on.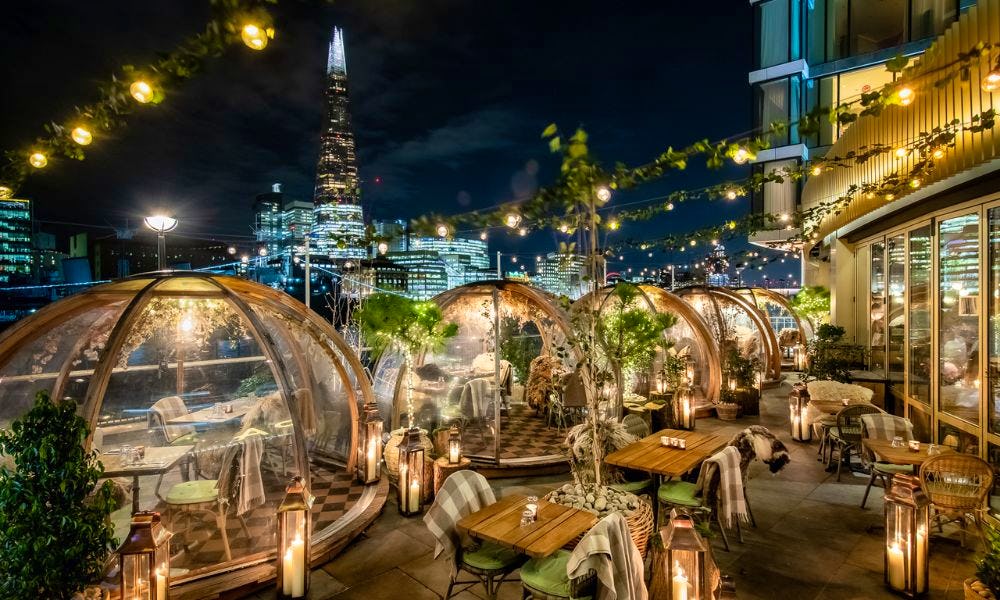 Come winter London's restaurants and bars put on a real show in the form of their outdoor spaces. Courtyards, terraces, and gardens are all transformed into cosy snugs perfect for wiling away a few hours. There are usually special cocktail lists and menus of seasonal grub, so they provide the ideal place to put on your itinerary if you know you're going to need a bit of a refuel. Dalloway Terrace is pretty iconic if you want something 'grammable. For serious eats we'd head to Bibi where cosy blankets and heaters will help keep the chill from you, while Chet Sharma's playful menu of nostalgic Indian flavours bring their own warmth. Elsewhere, there are winter igloos too – for fun evenings out with friends or romantic date nights. Our favourites are the ones at Coppa Club in Tower Bridge.
Read more: The best winter terraces in London and the best festive igloos in London There's nothing quite like afternoon tea, and the whole performance gets a polish come Christmastime. The finest London hotels add a hit of sparkle to their usual offerings, turning out novelty cakes and festive spiced scones alongside seasonal sandwiches and – in some cases – even a little entertainment. If you're going to do things properly then head straight for The Ritz where the afternoon tea parlour is transformed into an Edwardian winter wonderland for 2022. There's The Ritz choir on hand to set the background hum of carols, and if you have kids in tow there's a teddy bear to take home too. Other top spots serving up a festive feast include The Wolseley, The Savoy and The Lanesborough.
Read more: The best Christmas afternoon teas in London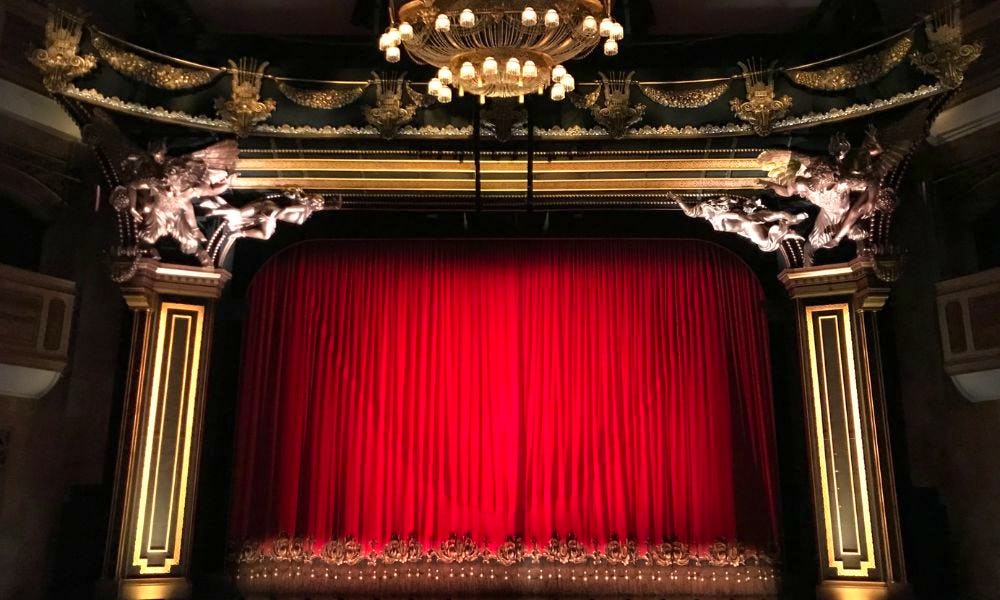 If you don't think watching a panto in the heart of London is the ultimate Christmas activity, we're here to tell you, oh yes it is! Okay, we're sorry about that, but the point stills stands. Catching a show is a transportive experience, making you feel like you're stepping back in time as you enter the world of gold-fringed curtains, little tubs of ice cream and red velvet seats. This year you can catch classics like Jack and the Beanstalk and Mother Goose in the west end, as well as comedy alternatives such as Elf! The Musical.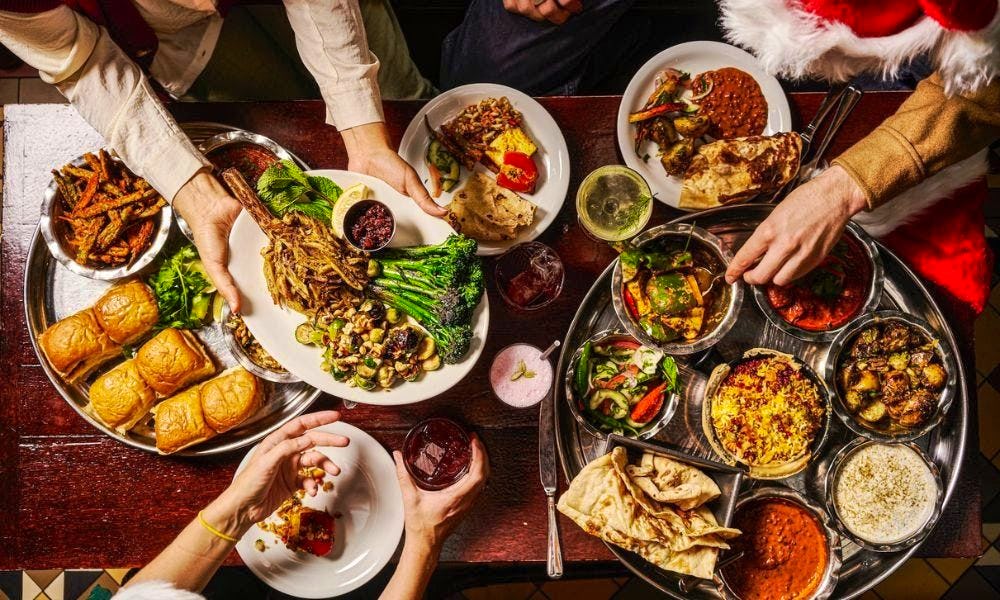 Okay, brunch might seem like a stretch if you're looking for something Christmassy to do in London but stay with us. Lots of the best brunch places in London offer festive versions of their usual spreads. Yep, we're swapping sausages for pigs in blankets and bacon for brie and cranberry in this little winter glow up and we couldn't be more pleased about it. One of our favourite options is the brunch at The Wolseley, it's an icon for a reason. The dining room is suitably glittery, and all decked out in decorations across November and December, with bubbles always on ice to enjoy alongside classics like bubble and squeak or smoked salmon and scrambled eggs.
Read more: The best Christmas brunches in London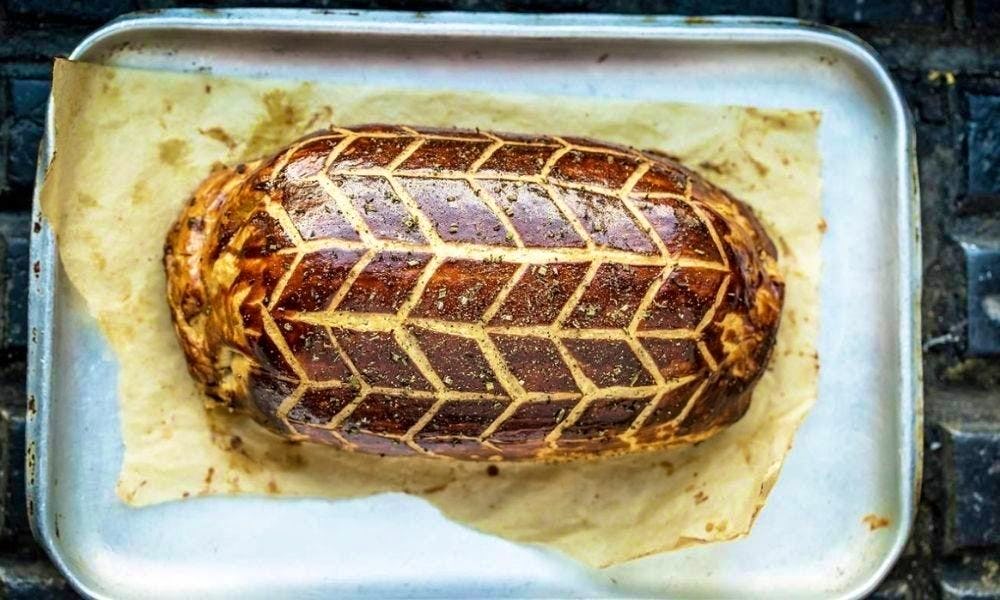 If you've ever fancied yourself as Star Baker but are yet to polish your skills, why not take this opportunity to learn from the best? London is home to some of the world's most incredible bakeries which offer classes for those of us who don't necessarily know the difference between a choux or a shortcrust. Many classes offer festive specials, like an introduction to gingerbread or how to make Christmas puddings. A favourite of ours is the seasonal doughnut classes at Bread Ahead. If you have a savoury tooth rather than a sweet one, you could undertake a cooking class instead. Perhaps master a beef Wellington for Christmas dinner or learn how to make pasta for a break on the festive food front.
Read more: The best cooking classes in London and the UK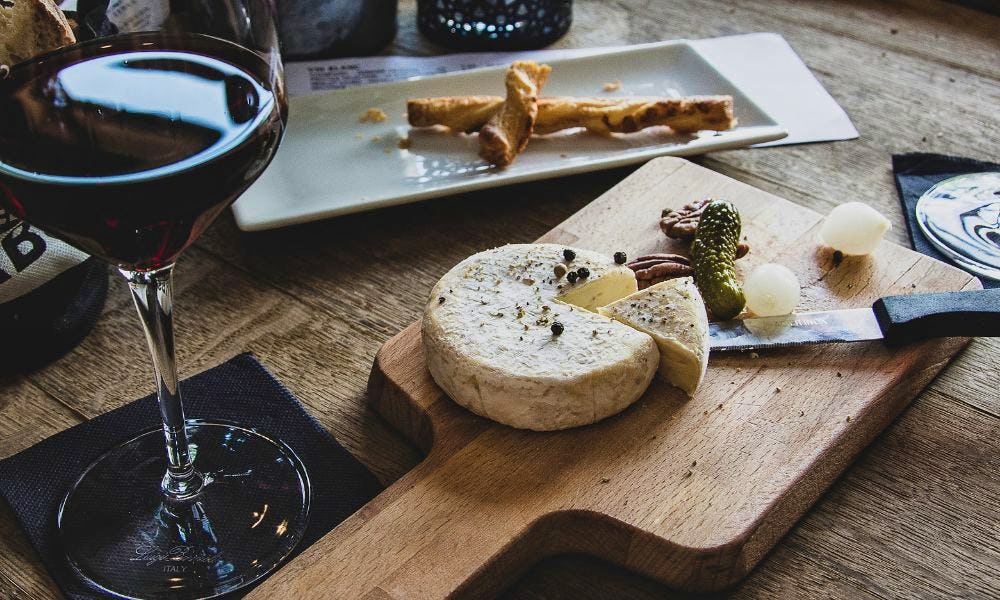 For something altogether civilised, why not indulge in a little cheese and wine? Cutting thick slices of fromage and topping a cracker with it is sure to have you feeling jolly in no time, and the addition of a glass of wine will do nothing to quash such a sentiment. The old classic – of course – is Gordon's, London's oldest wine bar. Here you're free to build your own cheese board from an impressive selection of European cheeses that are all served with French bread, salted butter, chutney and quince jelly. It's first come, first served here so make sure to get down early to enjoy the candlelit arches and old-world ambiance.
Read more: Gordon's


Free Christmassy things to do in London can feel few and far between but touring the Christmas lights doesn't cost a penny and is guaranteed to leave you feeling festive. There are of course the obvious displays along Oxford Street that spill up and onto Carnaby Street, but there are lesser-known areas that put on just as much of a show (and crucially draw smaller crowds, which we think makes for a nicer all-round experience). Chelsea is one such neighbourhood that covers its squares and streets in sparkle and makes for a lovely wander. Other, smaller displays include the gorgeous arcade of Leadenhall Market where everything feels ultra-traditional with a red and green colour scheme and mini Christmas trees hung up above every shop. Another top shout – if you don't actually mind a few other people – is Sparkle in the Park. Greenwich Park has a whole host of installations, food stands and live entertainment planned across the first week in December, and it's all free.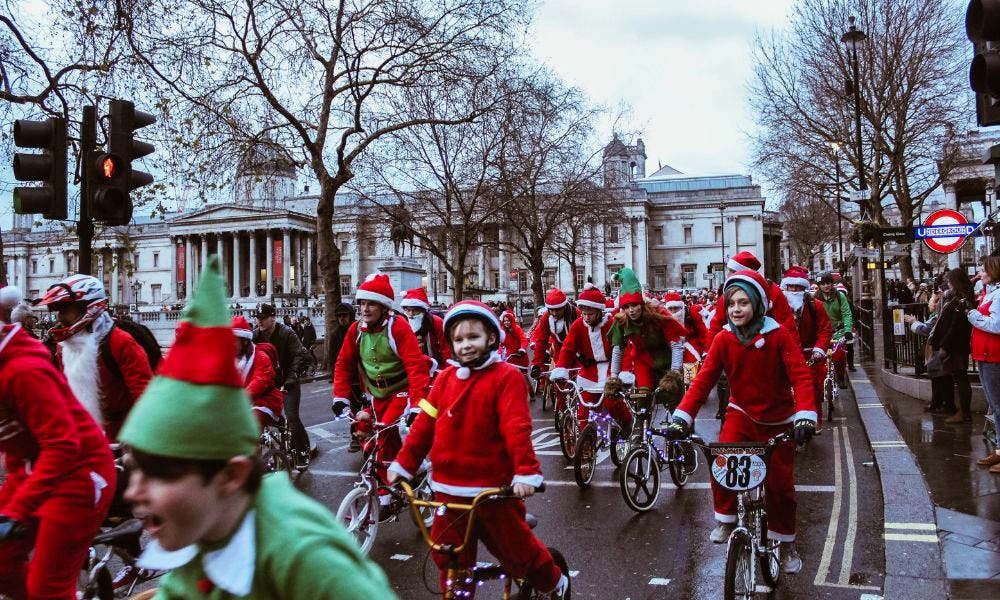 If you've never known the joy of seeing hundreds of Santas in one place then you're in for a treat. Each year charities and groups come together to organise various Santa runs, cycles and dashes to raise money for worthy causes. A sea of red and white, the sight is quite the spectacle – we'd wager it's categorically impossible to feel anything other than pure joy when faced with such a jolly scene. If you're really up for getting in the Christmas spirit, you could even enter yourself into a race.
Looking to get the gang together for Christmas? Hire one of London's best Christmas party venues
The best food and drink subscription gifts that deliver nationwide
Best beer gifts 2022: 11 perfect presents for beer fanatics
Where to watch the 2022 World Cup in London: 26 fan-filled places to soak up the action
Best cocktail bars London: 27 spots to drink super stylish sips
Win six bottles of Prosecco with Prosecco DOC
41 of the best Christmas dinners in London 2022
12 of the best Christmas dinners in Manchester for 2022
Caffe Nero's 2022 Christmas menu has launched, and you won't be disappointed
London's best igloos and winter pop-ups to dine at this year
Galette des Rois: Everything you need to know
Restaurants and Bars: Restaurant gift vouchers | Browse restaurants by postcode | Find restaurants near me | Suggest a restaurant
About SquareMeal Contact Us We're hiring Terms Privacy
© Monomax Ltd 2022. All Rights Reserved.SquareMeal is a trading name of Monomax Ltd. v2.5.7
Ireland | Singapore | Hong Kong | UAE
source