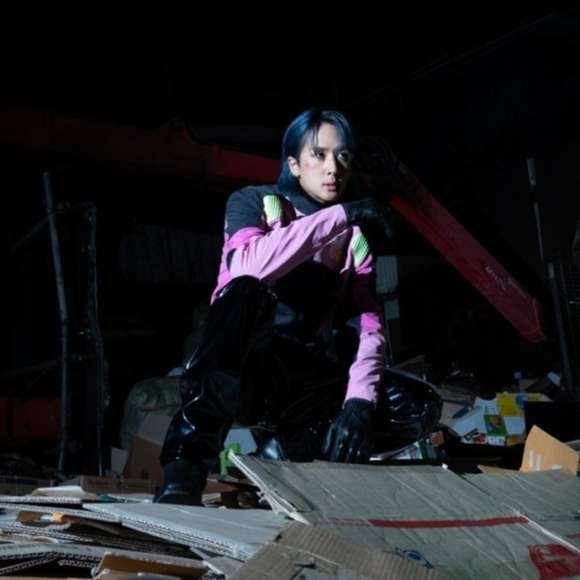 Photo = GROOVL1N
VIXX's Ravi announces the glamorous return of a 'global hip-hop artist' with a new single.
Ravi released the new single "ANI (Feat. (G)IDLE Soyeon)" through various music sites at 6 pm on December 7th, and made a comeback in about six months.
"ANI" is a song that combines hip-hop and rock elements, and depicts the image of a child who runs towards his dreams without change. The highly immersive storyline and light rock sound that make you feel like you are the main character of an anime convey a free atmosphere and a deep message.
In particular, this song features Soyeon of (G)IDLE, who has produced many hit songs such as "LATATA", "HANN (Alone)", "LION", and "Spark", and is recognized as a genius producer. and doubled the charm of the song.
Ravi, who is heating up the music world at the end of the year, recently introduced the new song "ANI" through a question-and-answer session.
――How do you feel about your comeback with the new single "ANI" after 6 months?
Ravi: It took a long time before the release because we tried various things musically. I am sorry and grateful to those who have been waiting.
――Please introduce your new single "ANI".
Ravi: "ANI" is a song that looks back on the days when you were a child full of dreams and courage, and is still moving passionately.
――What was the background behind the birth of this new song, and what was the most important part while working on it?
Ravi: I'm addicted to the punk rock sound, so I did the most research on that part.
――Is there a moment when you want to recommend "ANI" in particular?
Ravi: I would be happy if you could listen to it whenever you are driving, tired, exercising, sleeping, eating, or breathing.
――You collaborated with (G)IDLE's Soyeon for your new song, how did it come to be?
Ravi: I think Soyeon is one of the most talented musicians of the younger generation. She is good at music and has a very nice attitude and way of thinking about this work, so I always wanted to work with her. It was a real honor to be able to collaborate this time.
――2021 is about to end, do you have any goals or plans for the future?
Ravi: I think we will release a full-length album soon. I really want to meet my fans, so I will try to find various ways to meet them, including concerts.
――Please give a message to the fans who have been waiting for Ravi's music.
Ravi: I spent a long time worrying and preparing, so I think you can clearly feel my color. love you a lot I will do my best to repay you for always supporting me and loving me. Please know that I love you a lot too!