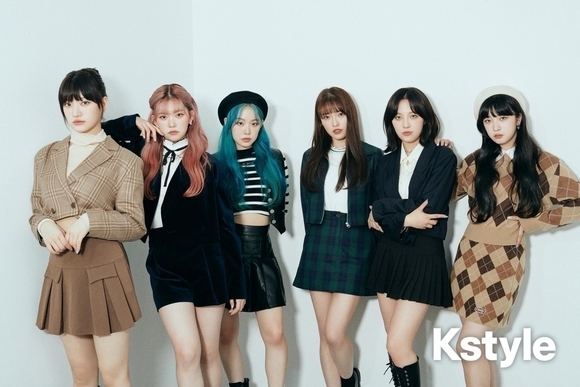 Billie debuted as MYSTIC STORY's first girl group on November 10th. Kim Soo-hyun, who played the bright and lively role of Yeo Bo-ram in the web drama "A-TEEN", ASTRO Moonbin's sister Moon Soo-ah from "Unpretty Rap Star2", Si-yoon from ABEMA "Popteen Cover Girl War", etc. Formed by six people: Haram, who won the singing contest, Japanese former Popteen exclusive model, and Japanese Haruna who has stage experience in the Kansai collection. In addition, Kim Sooyoung, who ranked 10th in Mnet's "Girls Planet 999: Shoujo Festival", has decided to change her activity name to Sean and join the group.
At Kstyle, we interviewed the 6 members who had just debuted before Xiong joined. Deliver plenty of their charms that combine ability, visuals, and individuality! In the first part, we talked about their first mini-album "the Billage of perception: chapter one" as well as their reasons for aiming to become idols and their charm points.
Vol.2 ― Billlie, Rivals in Japan! ? Approaching past activities "I love it so I'm happy to debut together"
[PHOTO] Billlie, members who have been active in Japan and Korea gather "Aiming to be an all-round idol"
[Present] Billie's autographed polaroids for 4 people! Follow and retweet Twitter to apply
――Everyone has a brilliant career even before debut, what made you want to become an idol?
Moon Soo Ah: I've been dancing a lot since I was little, but when I saw my older brother ASTRO's girlfriend Moon Bin senior going into the entertainment industry, I started dreaming about it.
Hallam: I wanted to become a singer who can sing and perform live like BoA seniors.
Tsuki: I was influenced by BoA seniors and Girls' Generation seniors who are studying languages ​​and are active overseas. I came to Korea with a dream of "I want to be like him".
Suhyun: When I was a child, I started dreaming about Girls' Generation seniors.
Siyun: Ever since I was a child, I wanted to become a singer when I saw senior idols on TV, so I worked hard.
Haruna: While attending a K-pop dance school, I became interested in K-pop and Korean culture, and wanted to be like my K-pop idol seniors.
Aiming to be an "all-round idol"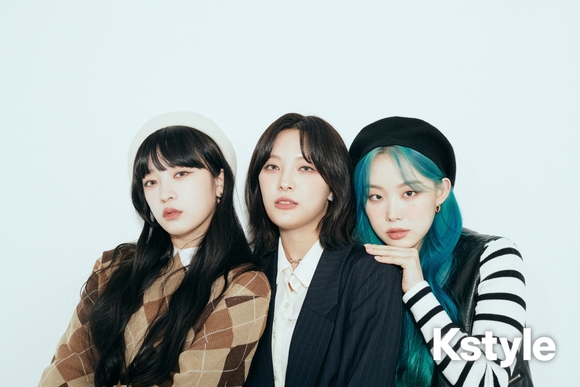 Haruna / Moon Soo Ah / Soo Hyun
――The group has been attracting attention since before their debut as a group that excels in both singing and performance, but what kind of group do you think you are? What kind of group would you like to be called from now on?
Suhyun: Just like you said, I think we're a group that is characterized by performance. We want to be a group with keywords such as 'all-around idol', 'hopeful stock', 'music chart proof idol (idol with ability to rank high on music charts)'. I'm working hard towards that, and I think having members who can do rap making is also a strength.
――I'm curious about the story behind the "Bi11lie" video that was released before your debut on November 11th.
Suhyun: It is a video in which important keywords such as 'November 11th' and 'purple rain' are hidden. It's a story about a mysterious incident that happened in a certain village on November 11th.
――You acted in the video, but please tell us your impressions.
Haruna: I was nervous because it was my first time acting, but Suhyun unnie, who has experience in acting, gave me some advice, so I was able to enjoy the filming.
Tsuki: I was nervous, but I was able to absorb a lot of the good points while watching the other members' shoots, and I thought, "I'll try this in my own time," so I think I did well.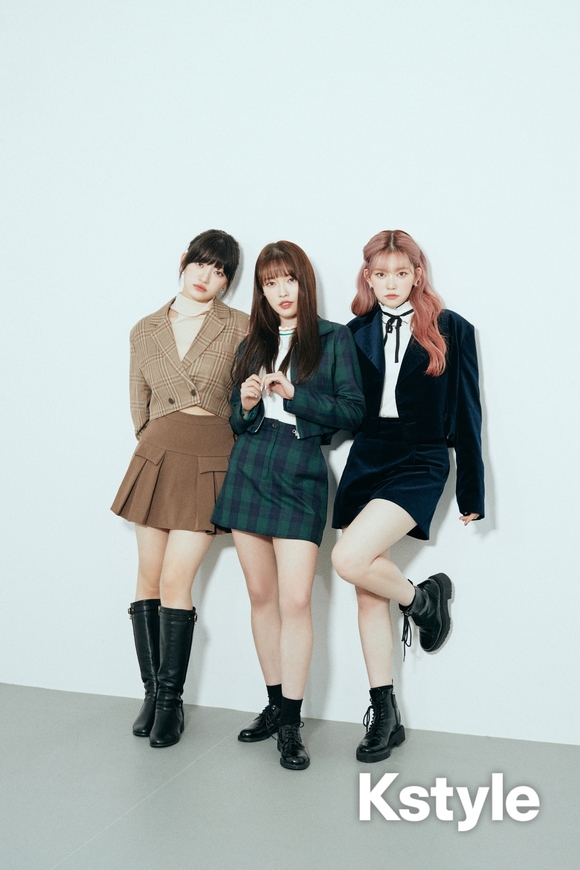 Shiyun / Haram / Tsuki
――Every song on your debut mini-album "the Billage of perception: chapter one" has a different atmosphere. What is your favorite song?
Moon Soo Ah: I love all the songs so it's hard to pick just one, but I really like the title song 'RING X RING'. Lyricist Kim In Ah and composer Lee Min Soo wrote the song, and Lia Kim created the choreography and gave us direct guidance, so it's an important and special song for us. became.
Siyun: I'm attached to 'the rumor' because they rapped together with Sua unnie. The lyrics for this song were also written by Kim Ina, and since it is related to 'RING X RING', I would like you to pay attention to that point when you listen to it.
Suhyun: I like "FLOWERLD". It's a fan song that was released before we debuted and that we give to our fans who haven't met yet. We put our feelings into the song, so we are attached to it.
Tsuki: "the eleventh day" is a song that expresses our world view the most and allows us to empathize with it. It's a retro 1990s song, and it's a completely different impression than "RING X RING", so it's my favorite song.
Haruna: I also like "the eleventh day". The lyrics of this song and the story of "Bi11lie" in the YouTube video are connected, so please pay attention to that.
Hallam: I think "everybody's got a $ECRET" fits well with Billlie's mystique and mystery. The addictive melody and the message contained in the lyrics are attractive.
Reactions after debut "A message of support from Japan…"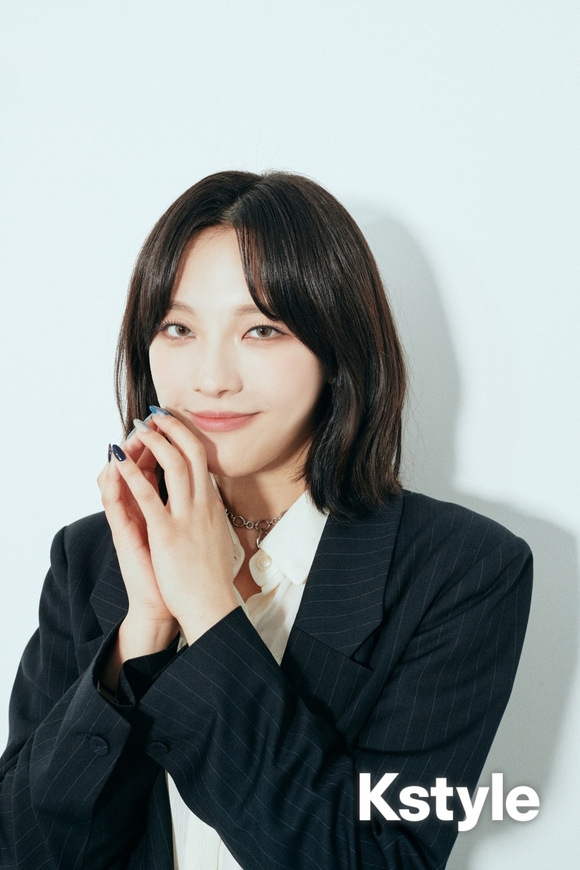 Moon Soo Ah
――Please tell us the dance points of the title song "RING X RING".
Suhyun: It's a song with a lot of hand movements, and in the first chorus of "Come find the missing", there is a movement where you can see your eyes through your hands, and I think that's the point.
――Then, please tell us the highlight of your part.
Suhyun: It's a part that comes out between the members when the lyrics say, "Is it already late?"
Haram: My killing part is the choreography of making a circle in front of my right eye in the lyric part of 'Disappearing Question' just before Soohyun's part. I think.
Moon Soo Ah: During the part of my rap "But we got no rules like april fools", I used to change my gestures according to the atmosphere. I tried it and it was very well received. I expressed April Fool's Day, but it would be too strong to make an x ​​(X) in my mouth, so I made it a diamond shape, and it seems that the fans liked it.
Haruna: I think I'm about to choreograph "Oh oh oh oh" like reaching out.
Siyun: There is a cat part in my part. I like the part where he meows like a cat, and the part where he stands in the middle of the break dance and kicks the members away.
Tsuki: I was in charge of the phrase "La la la la" from beginning to end. Also, pay attention to the break dance! !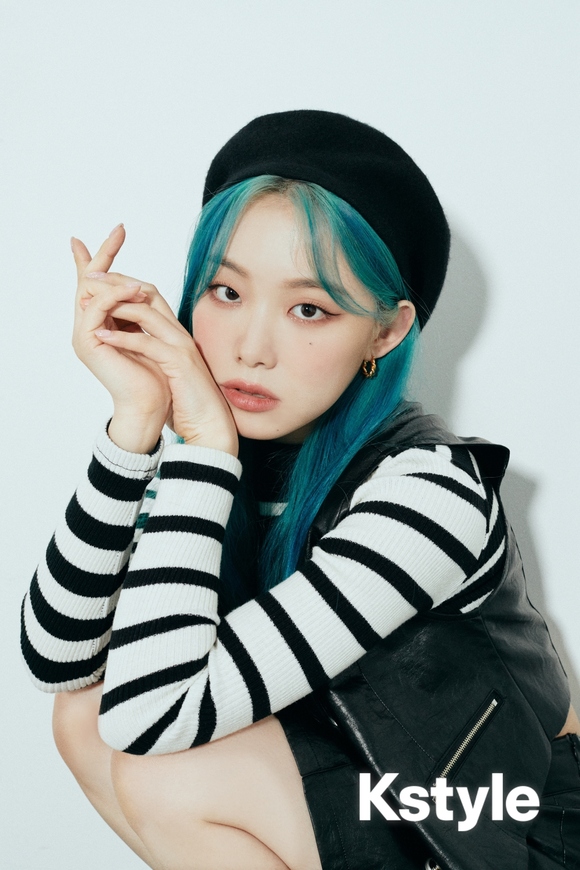 soohyun
— It's only been a few days since you debuted, but how do you feel about your activities?
Moon Soo Ah: My first music program was 'M Countdown', and I was moved by the wonderful set they put together. I was nervous, but once I got on stage, I didn't feel so shaken, and I was able to enjoy the performance. At first, it was difficult to catch the camera with my eyes, but it seems that all the members got better as they performed more times.
Siyun: I didn't really feel that I had debuted, but when I was on the radio the other day, the mother of a friend I used to be close to sent me a comment about her impressions. She thought, "A lot of people are watching," and she finally realized it.
――How was the reaction of your parents and friends who saw the music program?
Moon Soo Ah: It's been a while since I started working, so I don't have much time to spare, and I don't really know what kind of reaction I'll get (laughs). But since you've been waiting for my debut until now, I'm sure you're cheering me on.
Siyun: My parents sent me a letter. It said, "You're finally debuting. Congratulations. Do your best with the members."
Haruna: When my parents sent me a package from Japan, there was a letter of support. It seems that they are very pleased with our debut. I haven't been able to keep in touch with my friends because they are busy, but I was happy to see that they wrote a comment when the photo was posted on SNS.
Tsuki: My friends saw that I had been working hard in Korea, so they congratulated me. But my closest friend isn't very interested in K-pop, so he only worries me, saying, "Don't push yourself too hard, take care of yourself."
What is the personality of each member? "Comedy character (laughs)"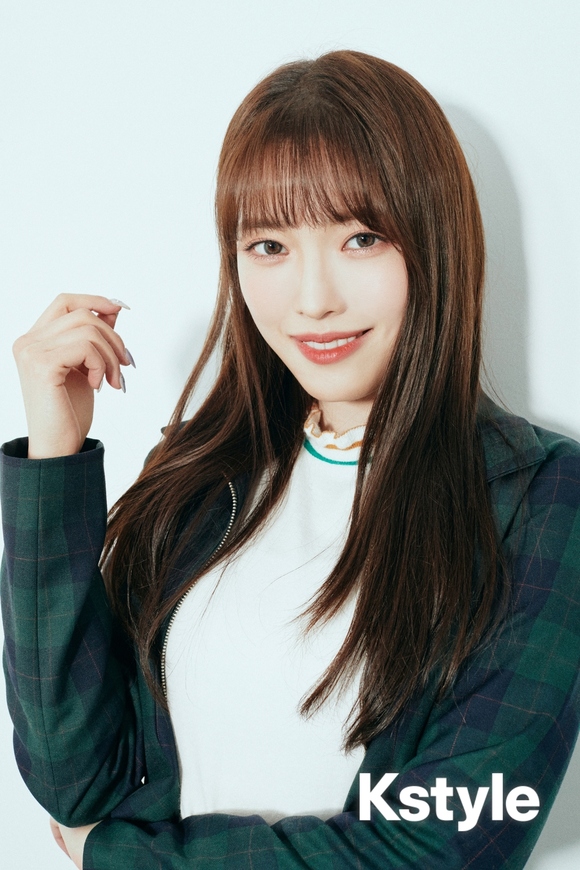 Haram
――Please tell us about your own charm point, personality, and role in the group.
Suhyun: He is the only J (judgment type) among the members in the MBTI diagnosis (self-reported diagnosis test that is popular in Korea), so he has a planned and determined personality. In the dormitory, I'm in charge of the "wake-up fairy" (laughs). I'm in charge of waking up earlier than the members. She is usually a bright and smiling fairy, and her charm point is her charismatic Gap on stage.
Haram: I'm in the middle of the age range, so I listen to what her sisters have to say and listen to what her sisters have to say and act as an intermediary. He has a charming husky voice and a simple and optimistic personality. He is the type of person who is cooperative and tries to understand what the other person is saying by listening carefully.
Haruna: I… What kind of responsibilities do you have?
Suhyun: Responsible for kiyomi (cuteness).
Moon Soo Ah: Kobugimangnae (the youngest tortoise).
Haruna: When I introduce myself, I always say "Kobugimanne", and people say that I like turtles and that my movements are similar to turtles because I am slow. I used to have turtles in Japan.
– What is the name of your turtle?
Haruna: Turtle (laughs).
Everyone: (Laughter).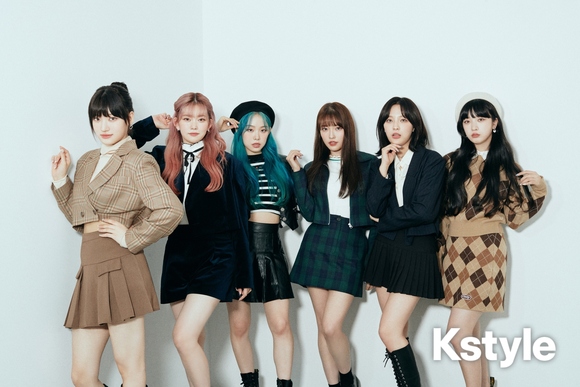 Haruna: What are the characteristics…?
Moon Suah: A charming dance.
Haruna: People say my dance lines are beautiful.
Haram: Always bright and in charge of aegyo! !
Moon Soo Ah: I'm the main rapper, so my charm is rap. Personality is refreshing and simple. I am in charge of cleaning the dormitory. I like being organized.
Siyun: I'm cheerful and smile a lot. I like meeting people… what else is there?
Moon Soo Ah: The expression management on stage is amazing.
Siyun: I'm in charge of facial expressions (laughs).
Tsuki: Then what am I in charge of?
Suhyun: Mood maker! !
Haruna: Tsuki-chan is funny.
Tsuki: A comedy character, I guess (laughs). She has a bright personality and is clumsy.
Beware Japanese members! ? burst of laughter first impression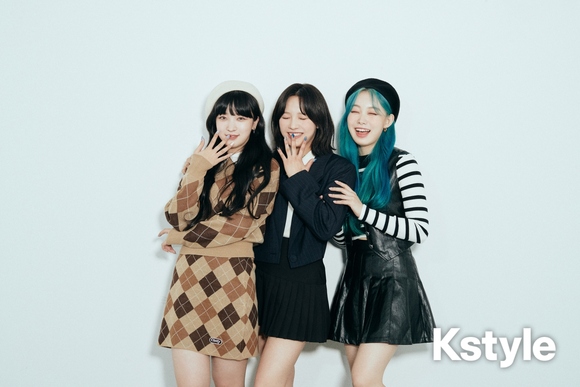 ――Please tell us if there is a member who is very different from your first impression.
Haruna: When I first met Tsuki-chan, she seemed like an older sister to me, but when we started living together, it was fun, and the atmosphere in the team got better and we got excited. She's funny and I love her.
Suhyun: I'm Haruna. I thought he was very quiet, fragile, and cool, but after improving his Korean, he started to speak a lot, and I realized that he had a very bright and lively personality.
Haram: For me too, Haruna was the most different from my impression. At first, I thought he was calm and cool with a quiet and taciturn style, but he was actually a very bright, talkative and mischievous child.
Tsuki: When I first came to Seoul, Haram noona wasn't there yet, but I knew about her from watching videos. I thought she was beautiful like a princess, but when I actually met her, my image changed to that of a cool older sister with a husky voice and a cool personality.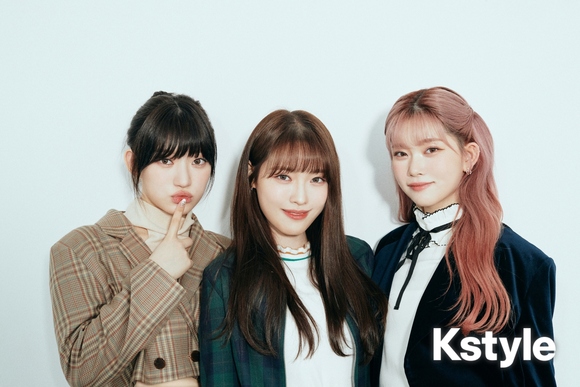 Haram: It seems that Tsuki knew me from watching the video, but even though I didn't know him, he hugged me as soon as we met for the first time. I was so surprised that I was on guard for about a month (laughs).
Tsuki: That's right~ Hahahahahaha (laughter). Without knowing that, I kept talking to her, saying things like, "Sister, let's eat."
Haram: I was a little scared (laughs).
Siyun: Since I watched A-TEEN, I had the image of Suhyun unnie as being very cute, lively, and dog-like, but she usually has a calm and chic side, and of course she is also cute. , It was strange because it has various charms. When I first met Suah unnie, she wore her leather jacket and was like hip-hop. She was a cute older sister who was thick and crybaby.
Moon Soo Ah: When Si Yoon first entered the office, she was still young and like a baby. When she introduced herself, she said, "Hello, I'm Siyun!!"
There is even a shout in every room! Dormitory life episode released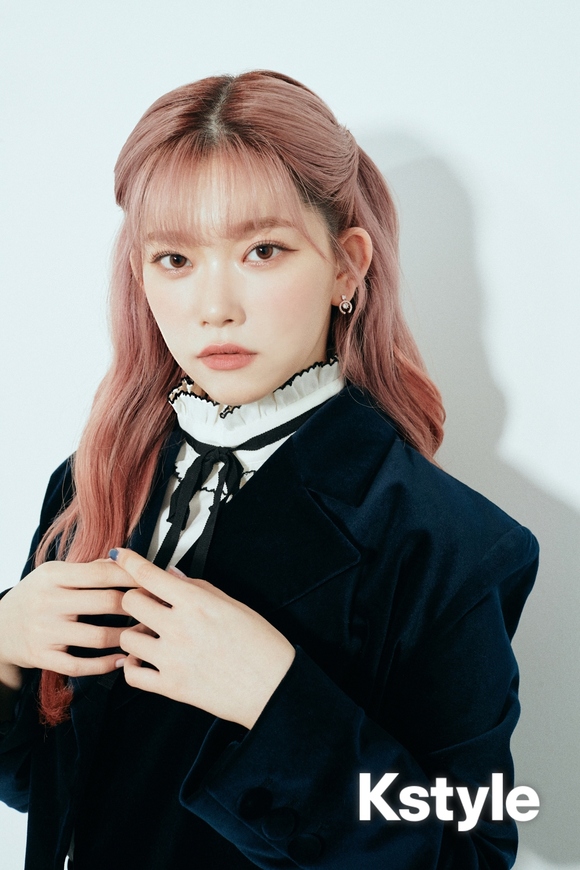 moon
――How do you spend your time in the dormitory? What about room allocation?
Moon Soo Ah: We are girls! !
Haram: Girl! !
Tsuki: Girl! !
Moon Soo Ah & Haram & Tsuki: Love Me! !
–(Laughter) Suddenly! ! What is it?
Moon Soo Ah: It's the call of our room. Our room has a free and open atmosphere. People who want to sleep can sleep, and the surroundings will naturally turn off the lights. But when you want to talk, you can get together and… Freestyle is the feature of the girl-girl-girl room.
――Do the other three rooms have shouts?
Suhyun: We are boys! !
Siyun: Boys! !
Haruna: Boys! !
――There is also this one (laughs).
Suhyun: Our room is filled with people who value their time. When I want to talk, I get together all day long to chat or watch movies together, but basically I enjoy my time alone.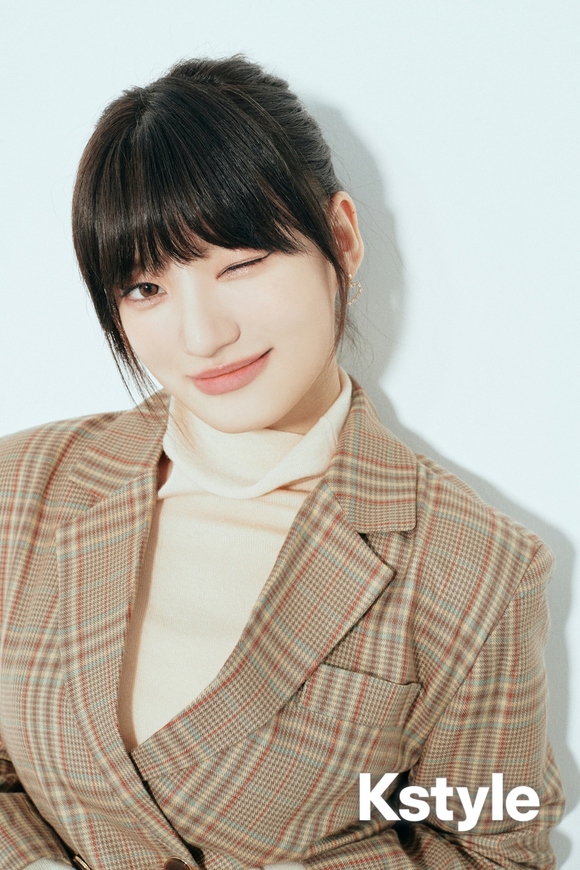 Shiyun
――Does each bed have its own characteristics? what are you putting?
Suhyun: (in Japanese) The atmosphere in Siyun's room is fluffy. There is also a curtain.
Siyun: It's a relaxing atmosphere, and I can fall asleep as soon as I lie down. I sleep with my stuffed animal.
Haruna: Recently, I got a cushion from Soohyun to use when sleeping, so I sleep with her. Also, there are a lot of stuffed animals.
– Soohyun, why did you give it as a present?
Suhyun: Haruna often rolls over in her sleep, so I thought it would be nice to have a round pillow. Recently, I changed the comforter for a change, so I bought it together at that time and gave it as a gift.
Moon Soo Ah: My bed is the only open style, so it's a space where everyone can come and rest. But I always keep my futon neat and tidy, so I have a rule that I always change into my loungewear before I sit on the bed. At first, I was wary of the members trying to sit down with their coats on, but recently the members seem to have gotten into the habit of changing into loungewear before sitting down (laughs).
Tsuki: Yes, yes. Now, after I change my clothes, I'll go "unni (older sister)~" (laughs).
Hallam: Ah! There's a story behind Sua's bed.
Moon Soo Ah: What is it?
Hallam: I bought a mattress as soon as my sister moved in, but it took about a year before I found out she was using it inside out.
Moon Soo Ah: That's right~ (laughter). The original mattress was thin, so I bought a thick one, but somehow I thought the cushion was not good enough. Recently, Haram helped me organize my bed, and he said, "Sister, isn't this inside out?" (laughs). That's why I knew it wasn't good enough.
Hallam: It was an inconvenient year (laughs).