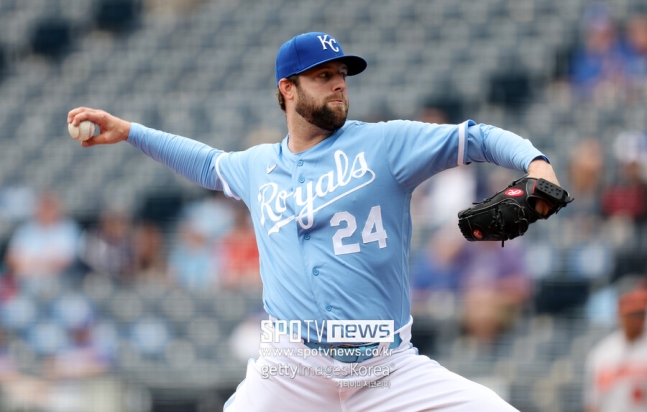 ▲ Jordan Lyles, whose team lost all 11 times in 11 appearances this season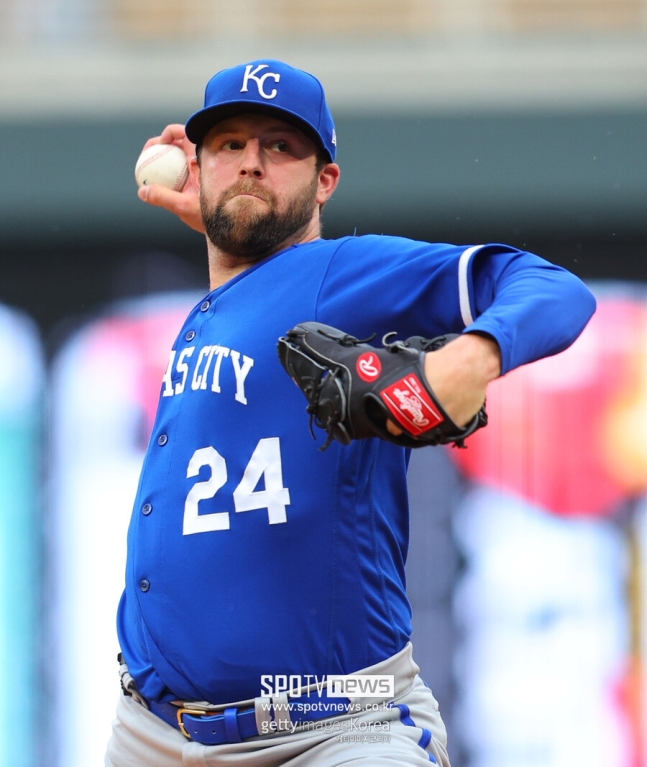 ▲ Lyles is expected to remain a symbol of the overall difficulty of rebuilding Kansas City.
[SPOTV NEWS=Reporter Kim Tae-woo] Jordan Lyles (33‧ Kansas City) is a chronic pitcher on standby. He made his major league debut with Houston in 2011 and has endured a long period of hard work. And his first double-digit multiplier since his debut in 2019.
He went 10-13 with Texas in 2021 and 12-11 with Baltimore in 2022. As shown by his career earned run average (5.19), he was not what one would consider a Class A pitcher. However, he was a decent pitcher for rebuilding teams to use cheaply on a one-year contract. He was able to get through the rotation without any major injuries, and he wasn't such a bad performer. He pitched 180 innings in 2021 and 179 last year.
Kansas City, also a rebuilding team, also paid attention to Lyles' charm. He saw that he could eat innings in a rotation for a year or two without being that expensive. So, ahead of this season, he signed a contract for up to 2 years for 17 million dollars (approximately 22.5 billion won) and took a position in the rotation.
However, this Lyles has the potential to become the worst pitcher in major league history. He entered the opening rotation and pitched for two months, still without a win. Kansas City's team performance is also going down along with Lyles' sluggishness.
Lyles started the game against Washington at Kauffman Stadium, his home stadium, but was unable to prevent the team from losing 10-12, allowing 6 hits (2 homers), 3 walks, 2 strikeouts and 5 runs in 6 innings. The average ERA for the season rose from 7.15 to 7.30.
The match drew attention with the confrontation between the two starting pitchers. Washington started with Patrick Corbin because both players were consistently poor pitchers. There have been only two pitchers in the majors who have given up more than 300 runs since 2020, Corbin (307 runs) and Lyles (302 runs).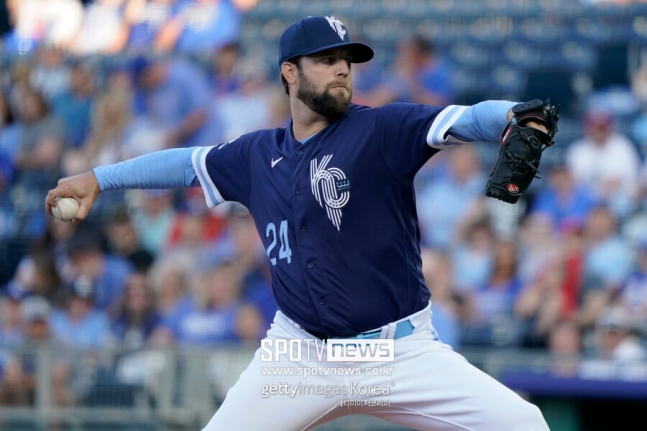 ▲ Jordan Lyles, who is recording an ERA of 7.30 with no wins and 9 losses this season
It was Lyles' 11th start this season. However, as they recorded a loss in the game that day, the season record became 0-9. And in the 11 games Lyles started, Kansas City lost all of them. Although Corbin also allowed 6 runs in 6⅓ innings, he became a winning pitcher with the support of the other line on his back.
Lyles' record is on its way to one of the worst in major league history. In his first 11 appearances in his last 25 years, the team has only lost twice. His most recent instance was Miami's Jose Ureña in 2018 (12 games), with Lyles becoming the third instance.
Also, Lyles has given up four or more runs in all of his last 10 games. The only recent major league pitcher to give up four or more runs in 10 consecutive games is Brian Mathus, who set the disgrace in 2011 and 2012, the first time Lyles has followed that disgrace in 11 years.
Nor is there anyone who can replace Lyles. Kansas City, whose rebuilding work is progressing slowly, is still lacking in the performance of young players. Meanwhile, by the 27th, he recorded 15 wins and 37 losses (.288), ranking 29th out of 30 major league teams. The only team worse than Kansas City is Oakland (.189), the worst team in the league. Lyles will remain a symbol of Kansas City's total predicament.